NEED TEACHING ASSISTANCE?
The worksheets that change lives
HERE TO HELP
English worksheets sent straight to your inbox.
Once (On-line Current English) worksheets are developed on an ongoing basis so that they are topical and relevant. You will receive a worksheet in your inbox every two weeks or weekly, depending on what your needs are.
You can subscribe to different packages: Grade 7 or SP (Grades 8 and 9) or FET (Grades 10-12) – each  one of these  packages is R180 a term. However, you can make a great saving by purchasing a combined SP and FET package for only R285 a term! Also available are our Grammar Guru worksheets (short, punchy worksheets that explain grammatical concepts in an easily understandable way). These cost only R120 to R150 for a pack of five worksheets. The good news is that you can also purchase back copies of all our worksheets – for reduced prices. We have been going for eight years so there is a great wealth of material available for you!
HOW TO 
How it works
To subscribe to these top-quality Once worksheets, all you need to do is fill out the form on the contact page.
Please let us know whether you would like to subscribe to Grade 7 or SP (Grades 8 and 9) or FET (Grades 10-12)  English Home Language worksheets so that we can send you a quote. You can also purchase backcopies of our worksheets for reduced prices or the Grammar Guru worksheets  as  once-off packages.
View sample worksheets and see how they cover English grammar while at the same time providing comprehension questions based on current issues and events.
It only costs R180.00 a term per phase – and there's a discount if you subscribe to more than 1 package.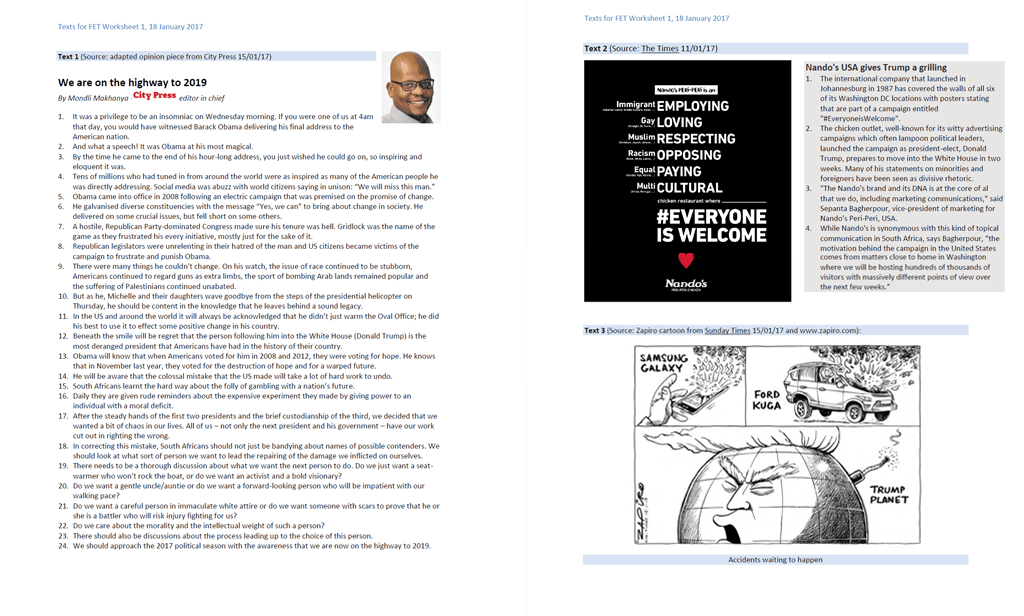 Grade 7 Worksheets
Are you teaching Grade 7 English? The examples below show what you can expect from the English At Once Grade 7 worksheets. If you need an easy-to-use resource that your students will love, English At Once would love to assist you. Get in touch with us to receive worksheets sent straight to your inbox.
SP Worksheets: Grades 8 – 9
Need assistance with engaging your Grade 8 and 9 learners? Once worksheets can make your job easier by sending up-to-date and relevant English worksheets directly to your inbox, every two weeks. It's as easy as that.
FET Worksheets: Grades 10 – 12
If you are teaching Grades 10-12 English Home Language, you may need some assistance providing your students with up-to-date and relevant information that will teach them and test their knowledge. Be sure to send us a message if you would like to subscribe to our  worksheets.
Grammar Guru
Do your students need assistance with grammar? Are you looking for a fun and engaging way to teach your students? Take  a look at our sample Grammar Guru worksheet to see how we can assist you. We would love to help make your job easier.
Word Nerd
Do your students need to improve their vocabulary? All high-school learners would benefit from our Word Nerd worksheets, which focus on building vocabulary and polishing grammar skills. Suitable for both Home Language and First Additional Language classes. Download a sample to learn more.
More than 900 teachers have made their jobs easier
by using English At Once